NOVOtan Complete
---
Prolonged periods of rainy weather soon add additional costs to installation time plans. If everything on the roof is wet, work usually cannot progress. Not so, with NOVOtan® Complete. NOVOtan® Complete is the entire roof, a prefabricated membrane in one-piece so-to-speak.
RENKO / SAARNOVA is certified for roofing products in conformity with DIN EN ISO 9001. Under controlled,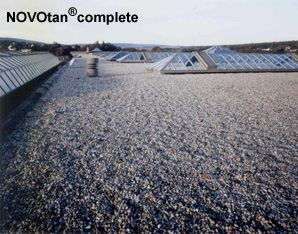 protected factory conditions, individual NOVOtan® sheets are welded together to create extra-large sealing membranes for covering surfaces of up to 900 m² (9,600 f²). Because the length of the sheets is unrestricted, the number of seams to be made on site is reduced to a minimum and at the same time maximum sealing effectiveness is guaranteed. NOVOtan® Complete is tailor-made to suit the exact geometry of the entire roof.
Great for Letting off Steam
The material used to produce NOVOtan® Complete has been especially formulated for large-scale roof membrane applications and is made from unmodified EPDM rubber. Our specialists place particular importance on the high permeability of the material. Like a waterproof rain jacket, NOVOtan® keeps moisture out, while at the same time allowing water vapour to escape. This way, even large areas of damp insulating materials can be overlaid and slowly dried out as if through the membrane.
This means that with NOVOtan® Complete :
renovation projects can be carried out at any time of the year

air pockets cannot form under the sheeting

the drying out of wet surfaces and insulation materials is guaranteed

application is not dependent on the weather
As with all RENKO / SaarNova compounds, the formula for NOVOtan® Complete is chemically neutral. This means that there are no chemical reactions when the material comes into contact with customary building materials. NOVOtan® Complete is also bitumen-compatible.
Insist on Nothing Else, Save Costs
NOVOtan® Complete can almost always be installed on top of the existing sub-surfaces. This saves demolition and disposal costs. (When installing NOVOtan® Complete, we recommend always laying a separation layer to protect it from damage caused by sharp edges on the old roof.) Since NOVOtan® Complete is especially elastic and flexible, the new sealing membrane will mould harmoniously to the subsurface. The loose laying technique demands weighing down with a ballast such as clean round gravel, which protects NOVOtan® Complete against wind suction uplift.
Perfect to the Last Detail
Whether for the formation of corners, drain flashings or pipe feed-through: NOVOtan® offers a wide range of preformed units to cope with every detail. These are precision-formed, pre-fabricated and welded at the factory. Made-to-measure and with a prepared Thermofast® Welding edge, they are integrated, mainly on-site, into the main roof area.
---
Send mail to CompanyEmail with questions or comments about this web site.
Copyright © 2004 CompanyLongName