NOVOtan Grey Reflect
---
On a hot summer day, low ceiling heights and insufficient insulation, combined with, for example, a black roof can lead to unbearable high temperatures in the attic. Work in any form during the day and sound sleep at night are difficult in such an environment.
Heat problems also affect adjacent higher buildings as convection heat rises from the lower flat roof and heats up the higher storeys.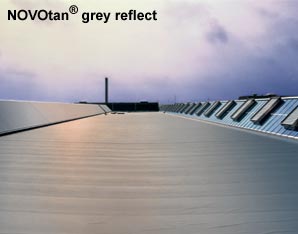 On the one hand, NOVOtan® Grey Reflect can contribute significantly to reduce these problems. On the other hand, aesthetic aspects may also be important when selecting the appropriate roof sealing as the appearance of a light grey roof is preferable to the usual dark covering.
NOVOtan® Grey Reflect, Cooler Roof
Compared to dark surfaces, light surfaces reflect light and heat radiation to a significantly higher degree. The closer the shade is to pure white, the lower the degree of heat absorption. Because a light roof reflects more warmth, its surface is considerably cooler, by approximately 20˚C (68˚F).
The light grey material reflects a large proportion of the heat and because the surface of the roof remains cooler, transmission into the attic is also reduced.
NOVOtan® Grey Reflect is the first EPDM rubber compound which is equal to the proven usual black version in terms of quality and durability. NOVOtan® Grey Reflect is reliable, UV resistant, has the high values typical of NOVOtan® in terms of resistance to tearing and expansion and can be joined in the same way using Thermofast® seam welding technology. NOVOtan® Grey Reflect is ideally suited for direct adhesion or mechanical attachment. It is not recommended to ballast roof covers by NOVOtan® Grey Reflect .
---
Send mail to CompanyEmail
Copyright © 2004 CompanyLongName