Ponds & Biotypes
---
Water is Life.
NOVOtan-membranes help to Shape it.
Looked at from a frog's eye:
Increasing soil coverage and a lack of park areas and marshes hardly offers enough species-compatible habitats for flora and fauna, not only and particularly in urban communities, but also in rural areas.
Precious rainfall is wasted into sewage systems and in this manner is withdrawn from the natural cycle. All that is left for organisms which depend on it, is to retreat to a less hostile environment.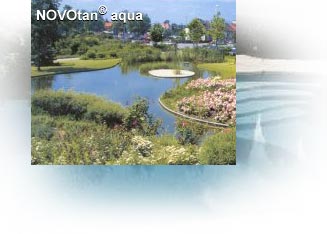 On a small as well as on a large scale, water reservoirs offer very good living conditions for flora and fauna, whether in the garden of a town house or on the golf course beyond the gates of the town.
Everywhere where there is a lack of naturally sealing stratums when building water reservoirs, additional measures to prevent water from seeping away are required. Sub-surfaces which are unable to take a load, easily subsiding soils and numerous environmental influences demand a lot from the material which it to be used in this application.
For more than 25 years, EPDM-membranes by RENKO meet these requirements easily and trouble-free. Made from environmentally-compatible rubber, they seal reliably, without impairing the sensitive ecosystem of ponds and marsh preserves.
Thermally-Elastic and Leak-Proof
Thanks to the special Thermofast seam welding technique, NOVOtan, which is flexible over a wide temperature range, can still be laid trouble-free at temperatures below freezing.
EPDM-membranes retain their full elasticity at temperatures from -40˚C to + 120˚C (-40˚F - +248˚F).
Environmentally Compatible and Root-Resistant:
The special properties of EPDM-rubber make it possible: when using NOVOtan-membranes it is possible to completely do without the admixture of toxic agents.
The strips are resistant to micro-organisms and can be regarded as root-resistant according to the severe FLL-test. Here plants can take root confidently.
NOVOtan-membranes can be factory prefabricated in sizes up to approximately 600m² (6,500 ft²).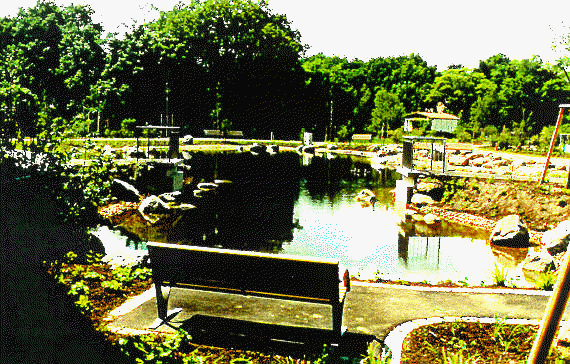 (Membrane thickness: 1.3, 1.5 and 2.0 mm / 0.051, 0.060, 0.078 mil.)
Chemically neutral, containing no harmful additives for vegetation and roots

Resistant to fungi and algae

Chemically neutral, containing no fungicidal or algicidal additives

A homogenous, water-proof seal for reservoirs, ponds, wetlands and biotopes
---
Send mail to CompanyEmail with questions or comments about this web site.
Copyright © 2004 CompanyLongName