Thermofast Welding
---
The natural welding technique:
Thermofast
Thermofast joining combines security and environmental compatibility.
Quality should not be at the expense of ones health, nor the environment. Thanks to many years of research, these aspects must no longer be mutually exclusive. The Thermofast joining technique developed by RENKO now makes it possible to unite such safety requirements with the highest product quality.
Safety First !
The Thermofast joining technique means hazard reduction without the stability of the seams being affected in any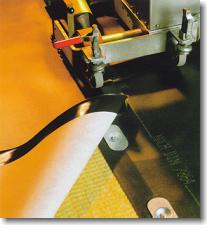 way. Weaknesses in the system have been eliminated and the excellent material properties of the EPDM NOVOtan strips can now be maintained even in the regions of the seams. A cohesive strength that by far exceeds the minimum requirements specified in DIN 7864 standard is an attractive and convincing characteristic. With this technique, in contrast to conventional methods of installing roofing sealing layers, there is no fire hazard.
All that is required of the Thermofast joining technique is to make sure that the required welding temperature and the welding speed are maintained. By using this completely hazard-free and almost weather independent welding technique, it is possible to create a robust and fully functional roof seal. The Thermofast method can even be used at temperatures as low as -5˚C.
Another advantage:
Even on roofing strips which have been exposed to the weather elements over many years, it is possible to use this special seaming method to perform welding work without problems.
A simply natural solution
In many cases, the application of a roof sealing layer demands the use of solvents, solvent bonding agents and solvent containing adhesives. Materials which represent such a danger to health require a safe replacement with the same functional quality. At RENKO, we do not only focus on quality, but safety plays an important roll as well.
The Thermofast welding technique provides an environmentally compatible technology for joining NOVOtan strips that sets the standard for the future.
---
Send mail to CompanyEmail with questions or comments about this web site.
Copyright © 2004 CompanyLongName