Moisture Barrier
---
Moisture Resistant and Easy to Use: NOVOwall® EPDM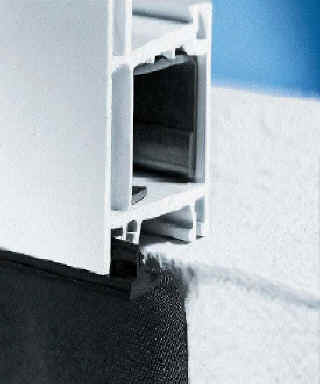 The long life of a building and healthy room conditions require detailed knowledge of building physics, thorough planning, proper execution of all construction details and the best use of quality materials and products. Moisture penetration, over the long term, can be extremely damaging to a building. It is the root of substantial subsequent damage, which can prove extremely expensive to repair.
NOVOwall® EPDM is a sealing material which has been tested over the years and which acts as a reliable barrier against rising and penetrating moisture resulting from ground water, backwater or driving rain.
A Perfect Example of Theory Being Put to Practical Use
NOVOwall® EPDM is produced from a robust EPDM rubber which is specially formulated by RENKO and designed to provide an outstanding seal. It has strong tensile strength, is tear-proof, has guaranteed dimensional stability, is durable and suppresses hygroscopic changes in building materials. It is thus able to prevent damage to concrete and brick structures due to aggressive salts. It is also resistant to UV light and ozone.
NOVOwall® EPDM can be installed without difficulty on almost any substructure. It is bitum-resistant and compatible with standard building materials with which it is in contact, in particular, commercially available thermal insulation systems.
Flexibility and Rapid Installation are Standard at RENKO
It is available in 20 meter long rolls (66 feet) and widths of 100mm (4 inches) to 1300mm (51 inches) for easy handling. Whatever the application, we can supply the material either with simple cut edges for laying and bonding or with our tried and tested joining edge.
---
Send mail to CompanyEmail with questions or comments about this web site.
Copyright © 2004 CompanyLongName